Background Information (Source InsideLakeside)
American pedophile known to be in Mexico, and last seen in Puerto Vallarta-Chapala-Ajiijic-Guadalajara areas.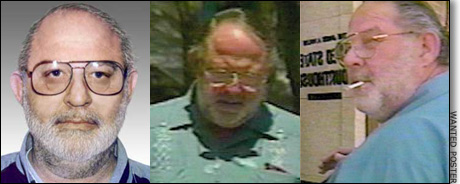 David Benjamin Creamer aka Dave Creamer aka Ben CreamerOne of the fugitives most wanted by the US Marshals Service (USMS) and Immigration and Customs Enforcement (ICE) is believed to live in Puerto Vallarta, Chapala, Ajijic and Guadalajara.The USMS and ICE appeal to all American expats in the region to help capture this dangerous fugitive, one of the most notorious producers of child pornography and collector of illegal guns.The USMS offers up to $25,000 USD for information leading directly to the apprehension of David Benjamin Creamer, aka Dave Creamer, aka Ben Creamer.Born in 1946 in Tucson, AZ, David Benjamin Creamer was apprehended 15 years ago for the possession and production of more than 100,000 videos depicting sexual abuse of minors and bestiality. Just between 1994 and 1995, Creamer made 2.3 million dollars from these videos, which featured sexual abuse of minors between the ages of 4 and 16.
With his profits, he created a vast international network for the distribution of audiovisual child pornography.
The US captured Creamer in 1997, charging him with 23 felony counts, among them: child pornography, money laundering, tax evasion, and illegal possession of 70 firearms and 80,000 rounds of ammunition.
He escaped immediately, posting a bail granted by a US Judge. It is known that he lived in Las Vegas for a short time, already as a wanted fugitive. Mexican Immigration has a record of him entering the country by air at Guadalajara. To date, there are no departure records.
WARNING: Creamer is considered to be armed and extremely dangerous. If seen, do NOT approach. Contact Mexican and/or US law enforcement immediately.
Name: David Benjamin Creamer, aka Dave Creamer, aka Ben Creamer
Sex: Male
Race: White
Current Age: 66
Height: 5'10"
Weight: 250 lbs
Hair (Color, Description, Facial Hair): Gray / White – Balding (may have a ponytail, he's most likely still wearing a mustache and full beard)
Eyes: Blue, wears glasses
Other Physical Characteristics: Light skin tone, pale complected, diagnosed diabetic, so may be seeking medication, takes Glupizide (aka Glucotrol) for his diabetes. He was also taking Seldane, a prescription allergy medicine and Diclofenac Sodium, a prescription pain killer. According to his former pharmacist, Creamer must have the diabetes medicine to live.
Scars and Tattoos: One on face, right knee, left knee, circular discoloration on left side of ribcage, "plus sign" scar on neck –this scar area bothers him and he tends to lean forward when driving so that the scar does not rub against the head rest.
Traits and Habits: Smokes Sherman Whites (rare cigarette), carries a .38 in a shoulder holster under jump suit, has worked as a handyman. US Marshals say he has a fascination with weapons.
Creamer has prior convictions for conspiracy to receive stolen property.
Has fascination with Harley Davidson motorcycles, and has previously owned them.
Generally wears one-piece jumpsuits, Mexican wedding shirts (Guayaberas).
Last Known Locations: Puerto Vallarta, Chapala, Ajijic & Guadalajara.
Other Possible Locations: Arizona, Nevada, Belize
His sister lives in Las Vegas.
Just this June, seven American pedophiles have been captured in Puerto Vallarta. All had outstanding arrest warrants in the US for child sexual exploitation, two are members of international criminal networks.
Until 2000, when the US started tracking Americans visiting Cambodia, Thailand and the Philippines, countries infamous for their underage sexual tourism, American pedophiles discovered Puerto Vallarta, Cancun and Acapulco, three cities where they can easily blend with the US expat communities, hiding in plain-sight among other Americans that seek these destinations to improve their quality of life on their retirement income.
The most infamous case in Puerto Vallarta is that of Thomas Frank White, a 70-year multimillionaire, who established a foundation in San Pancho, donating 3.5 million USD to himself to support a shelter for homeless children. 79 minors later came forward to report that White sexually abused and filmed them. White escaped to Puerto Vallarta after being charged with pedophilia in the States in the 90s, bought Casa Blanca and the Iguana Hotel, and was popular in the expat community.
When a warrant for his arrest was issued in Mexico for the crimes committed against the 79 minors mentioned above, he fled to Thailand, where we was captured in 2003 and extradited to Mexico in 2005. He is still in prison on federal charges.
The assistance of the expat community in Jalisco is very valuable to capture American criminals hiding in Mexico in plain sight.
If you have any information leading to the capture of David Benjamin Creamer or any other pedophile, contact Mexican or US law enforcement